A mere six days ago, I commented on
Magpie Ethel's blog
that I "had no vintage Halloween decor - yet." She has the best collections of vintage, well, everything! I just love the look and she has inspired me to add old Christmas, Valentine and Easter items to my holiday decorations... but since Halloween has to be my second-favorite holiday behind Christmas, I really wanted to find something special and old to add this Fall too.
Some of my favorite vintage paper decorations are made by Beistel. I have their
Easter Bunny
, and I have long adored their awesome Halloween black cats; sadly vintage ones are pretty expensive.
When researching Beistle online, I discovered some interesting history: that since 1900, Beistle became "a pioneer in honey combed tissue decorations creating a variety of products including bells, balls, toys and Easter bunny nests. Over time the Beistle Company expanded its catalog to cover all the holidays from Christmas, Valentine's Day, Easter, and Thanksgiving. But the first seasonal decorations added to the catalog were Halloween. Over 1000 different designs and decorations have been added since 1921 ranging from witches, black cats, bats, owls, spiders and jack o lanterns. The company produced many popular die cut Halloween paper items and helped popularize Halloween decoration in America. The company's early success was credited to selling inexpensive premade decorations that customers could readily buy from the store."
Original die cut decorations and tissue honeycombs are quite collectible; so you can't imagine my absolute delight at what I found in a big bag of miscellaneous Halloween stuff at Value Village yesterday for $ 2.99.
My cat!!!
Oh.My.Gosh.
Perfect, marked and unpunched. There's one on Etsy for $75 (damaged), one on eBay for $43. 11" long and marked.
(As always, click on my photos to biggify)
11" tall Scarecrow with honeycomb haystack! UNUSED and marked!
There's a creased one listed on Etsy for $17. There's not the slightest crease on mine...
Carefully folded open as the slot for the tab isn't even punched out
10" tall unpunched Pumpkin! These simple large diecuts are currently fetching about $10 each.
12" tall unpunched Scarecrow with an adorable mouse in his hat (matches the honeycomb above). Sadly this one has a tear on the right side...
Closeup of maker's mark:
Creepy 11" tall skull... a few tears on the top and bottom though.
Large 15" tall Witch. Unfortunately, because this was the largest item in the bag, the top of the plastic where they stapled it shut caused a few bends in her hat:
Holy crapoly... the 22" tall Beistle skeleton... perfect condition!
I really couldn't believe my luck. I didn't even realize what was in the bag until I got it opened at home... all I saw through the plastic at the store was the honeycomb of one of these (not Beistel, but perfect unused condition still in their original bags). These and the Scarecrows will be great for Thanksgiving!
All the vintage Beistel diecuts were sandwiched between an unused Pumpkin Master's kit (I broke a few of my well-used cutting tools last year, so the two that came with the design book were definitely needed) a plush Halloween black cat toy, some cookie cutters, three sets of unused treat bags (which I use every year) and some fake witch's nails which will be sent back to Goowill / Value Village in my donation pile.
Awesome.
Sharing with: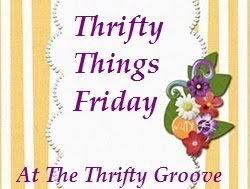 and Laura, at
Inspired Sunday Blog